JASON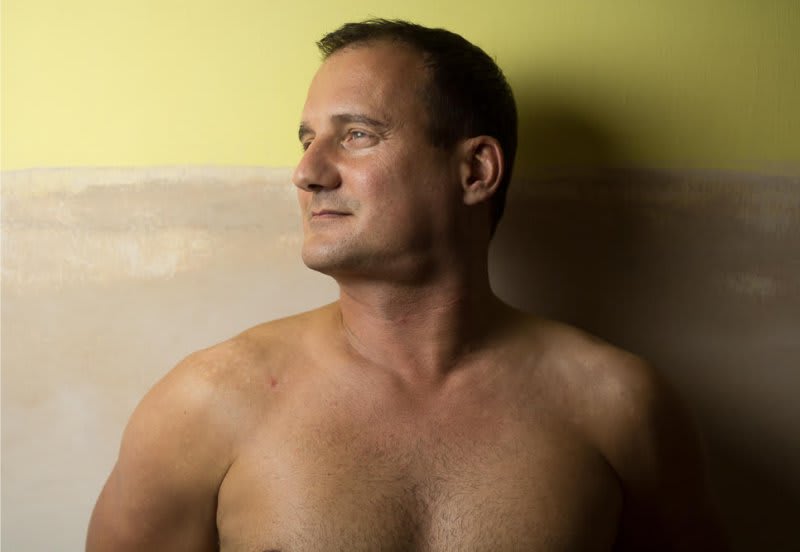 A Unforgettable Erotic, Blissful & Ecstatic journey
Jason offers a range of Tantric Massages, Tantric Rituals, Tantric BDSM, Tantric Tuition
Tantric Massage
Jason offers tantra massage sessions in Bristol, he has over 25 years experience of Tantra and together with attending the gym 6 days a week, whichever option you choose with him, you are in for a unforgettable blissful and ecstatic journey. Jason takes you to heaven through your sexual energy. What he can offer you is totally unique and often Jason's clients tell say: "Wow! I didn't know my body could do that." The experiences people have in the session often stay with them for days if not weeks. It doesn't matter if you describe yourself as gay, bisexual, straight or none of these at all. If you are a man you are very welcome to experience any of the services Jason offers.
A Luxury Pampering Treat: A longer relaxing sensual and rejuvenating massage experience.
The Ultimate Tantric Masage - Hot, Erotic, Explosive & Orgasmic: Ecstatic, electric and erotic all in 1 mind blowing experience.
Tantric Rituals
A Tantric Ritual is different to Tantric Massage in that they are typically more intimate, involve other Tantric practices to experience as well as Tantric massage techniques. Rituals are typically more intimate and longer in duration than Tantric Massages. With everything you would experience in a Ritual, they can feel deeply profound and give you experiences of Tantra that you may have not yet experienced. Deep, profound, heart felt, loving, intimate and highly ecstatic are all available here.
Chakra Orgasm Tantric Ritual: Experience 7 types of Orgasm
A Tantric Lover: Experience love, intimacy and seuxality like never before
Bliss - A High Tantric Ritual: The highest and most sacred Tantric ritual
Tantric BDSM
Everyone's way in to experience profound Universal Bliss is different. For some gentle strokes and Tantric massage can take you there. For others something more intensive is required.The overall aim is your complete surrender. The 'how you got there' doesn't matter, just the fact that you gave it up and surrendered. Intense sensation, when received, can flood your body and mind with endorphins of pleasure that can take you to the gateway of heaven and to a world of ecstasy. You can only experience bliss in your total surrender to yourself and everything you know. Welcome to Jason's offerings that enable you to experience 'another way in'.
Bondage & Massage Together: Experience the union of bondage and massage together.
A Bound Tantric God: An experience like no other - your complete surrender.
Fantasy Play: Have a fantasy that you want to play out?
Tantric Tuition
Your very own Private Tantra Tuition Sessions, enjoyed either as a series of 6 x 2 hour sessions, or as a 1 or 2 day Tantra Workshop – a perfect way for you to learn Tantra that is private just between you and Jason. This is a great and yet profound Introduction to Tantra.
About Jason
Jason's work is his creation of showing you Bliss. Of opening you out of your day to day and taking you to a place where your hearts melts and it feels like home. Jason wants to give you a Wow! experience that will sit with you for days afterwards. He wants you to feel moved, to feel touched and to feel alive.

Jason has been teaching workshops through his Tantra school, Tantra4GayMen and over the 9 years of teaching, and holding space it felt like there was something missing for him. Jason absolutely loves teaching and holding spaces and will continue to do that for as long as he can, it's his calling in life. But as part of living this Tantric Lifestyle he also want to be part of it, to be in the process in the space as well.

It is really normal after a session with Jason to feel as if you have had a deep and profound experience. That you feel alive, that something has changed and you can't put your finger on it. Some men have told him that he has ruined their conventional sex life because after a session with Jason, what they experienced before just didn't feel good enough anymore. Other tell him that for days afterwards they felt like they had a spring in their step, they felt happier, and they had this warm glow around them.

Jason tells people he has the best job in the world. He shows men what Bliss means, what it feels like to experience heaven. And he does this as his contribution to humanity to help us evolve into a species that is in love. Enlightened.

So, Jason really looks forward to welcoming you to a session with him, let him take you to heaven and back.